Meet Your Friendly Dental Team – Garland, TX
Friendly, Fast, & Ready to Serve
Our team members love being a part of our dental office, and you can tell because many of them have worked here for 10, 15, or more than 20 years! Their experience is only exceeded by their passion for helping our patients feel right at home while providing them with seamless service. Before you get to meet everyone in person, you can learn more about some of the friendly faces that will be taking care of you below!
Nancy, Office Manager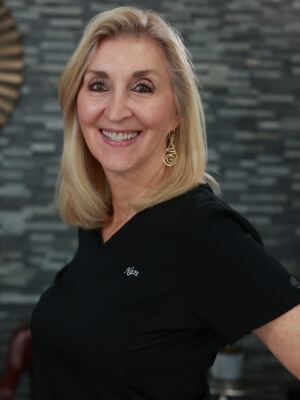 Nancy's career in the dental world impressively covers almost 40 years and counting! As our dental office manager, she enjoys caring for such wonderful patients, as well as a getting to work with such a dedicated, experienced, and enthusiastic team every day. In addition to her dental office management expertise, she is also trained as a Registered Dental Assistant.
Nancy has three grown sons, three grandchildren, and two fur babies. Outside of the dental office, one of her biggest passions is competitive ballroom dancing! She's traveled to competitions in cities all across the United States, and she also stays active in the social dance community here in Dallas. Some of her other hobbies include reading, doing yoga, gardening, making jewelry, and spending quality time with loved ones. Here's something interesting about her: she's a great cook and can whip up something yummy at a moment's notice just from what she has on hand!
Karen, Front Office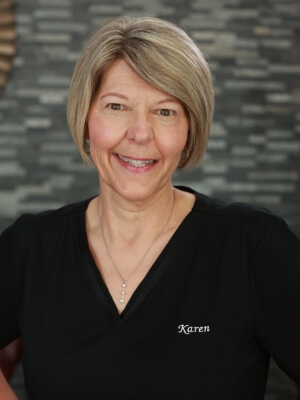 Karen has been at our dental office for her entire 16-year dental career. The best part of her day is greeting our patients and helping them feel right at home the moment they step through the door. She was born and raised in Garland, and she and her husband have been married for 41 years. They have two adult children, Heather and Ryan. Outside of work, she is saving the world one cat at a time and regularly volunteers with the Feral Friends Cat Alliance. She is also a big foodie, so one of her favorite things to do is try new restaurants.
Christine, Dental Hygienist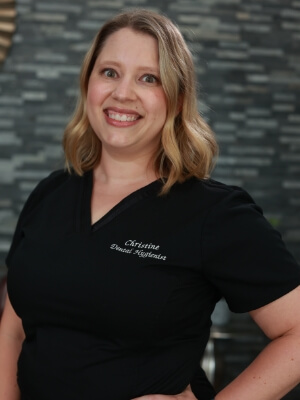 Christine has been working in the dental world for over a decade so far, and she really enjoys building relationships with every unique patient! A Wylie native, she completed her dental education at Baylor College of Dentistry.
Christine and her wonderful husband have a Chocolate Lab named Lucy. As for hobbies, she spends her free time reading good books, camping, visiting state parks, hiking, and taking out the kayak whenever possible. She also really enjoys cooking – even though she HATES having to do the dishes afterwards. Here's something interesting about her: she can play the violin and was even part of a trio that used to perform at weddings and other special occasions!
Melanie, Dental Hygienist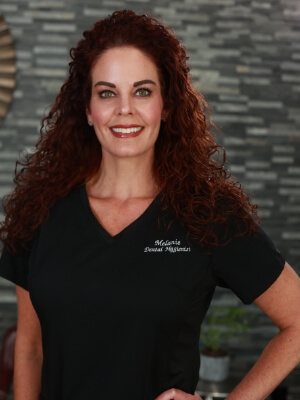 Melanie has been a part of our dental office for nearly two full decades so far! She studied dental hygiene at Texas A&M Baylor College of Dentistry. Today, she loves spending time with her patients – it feels just like catching up with friends every six months.
A Wylie native, Melanie has two amazing kids named Grant and Aubrey. When she isn't busy at work, she enjoys staying active by running, riding her Peloton, and constantly chasing after her children at their various sports and activities. Here's something interesting about her: she's been her current height (almost six feet tall) since middle school!
Sheri, Dental Hygienist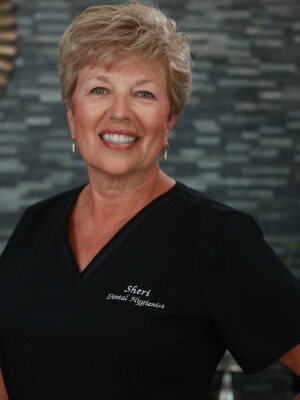 Sheri has been a part of our dental office for more than 20 years, and she loves seeing patients become excited about getting their teeth cleaned and feeling great about their smiles afterward. She attended Texas Women's University and is dental sealant certified.
Originally from Garland, Sheri and her husband, Shawn, have been married for almost 40 years, and they have two grown children with a granddaughter on the way. When not at the dental office, she enjoys hanging out by the pool, working in her flower beds, trying new wines, and playing golf. The family also has a vacation home in Hot Springs Village that they try to visit as often as possible.
Patricia, Dental Assistant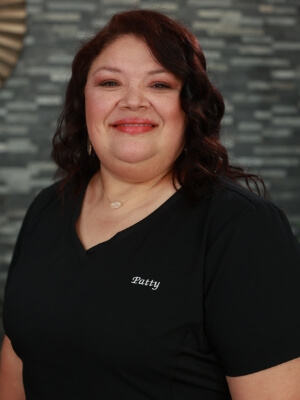 A Mesquite native, Patricia has been working in the dental field for over 25 years so far. What she enjoys most about her position as an assistant is being able to fix a patient's smile and boost their mood as well. Seeing them cry with happiness is always so rewarding!
Patricia has been with her husband for nearly three full decades, and they have two grown sons. In her spare time, she really enjoys decorating (especially for birthday parties and special celebrations) and making baked goods for various events. She also saves plenty of time for hanging out with friends and family, whether they're at a good baseball game, fishing, or just having dinner by the pool or on the beach.
Jennifer, Registered Dental Assistant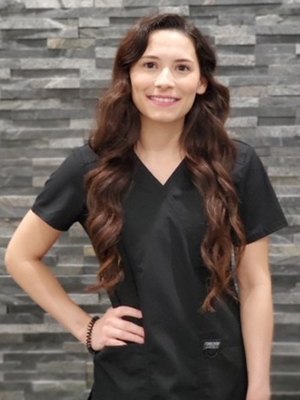 Since joining our team in 2021, Jennifer has loved coming into work each day because it means she gets to make patients smile! She is a Texas native who completed her studies at Elite Dental Assisting School.
Away from the office, Jennifer loves spending time with family, playing board games, participating in sports, and doing just about anything that lets her spend time outside!