Dental Implants – Garland, TX
Tooth Replacement That's Second to None
For patients who are missing one, several, or even all of their teeth, dental implants are usually our first recommendation. Unlike dental bridges and dentures that only bring back the visible sections of the teeth, dental implants recreate the entire tooth structure. As a result, they're able to look more lifelike, restore more function, and last much longer than other solutions. With the help of our expert periodontist, Dr. Vasquez, we can perform every step of the dental implant process in one dental office and ensure reliable, attractive results. To learn more about this truly unmatched tooth replacement, contact North Garland Family Dental today for a consultation to discuss dental implants with our Garland, TX dentist.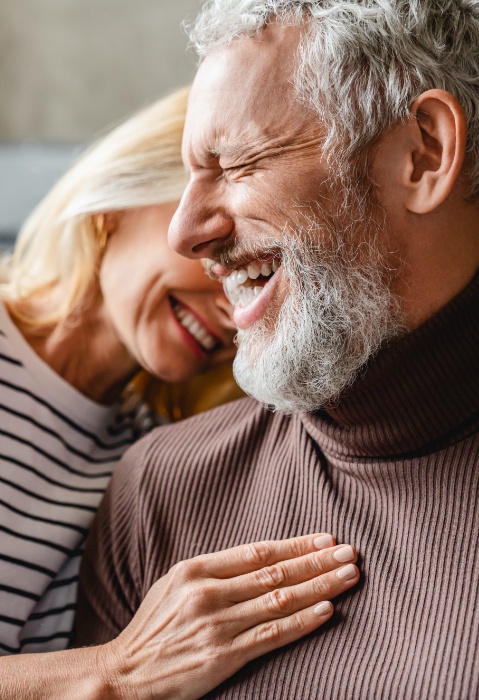 Why Choose North Garland Family Dental for Dental Implants?
Entire Dental Implant Treatment Completed Under One Roof
Former Master Dental Lab Technician on Staff
Dental Insurance Accepted & Financing Available
What Are Dental Implants?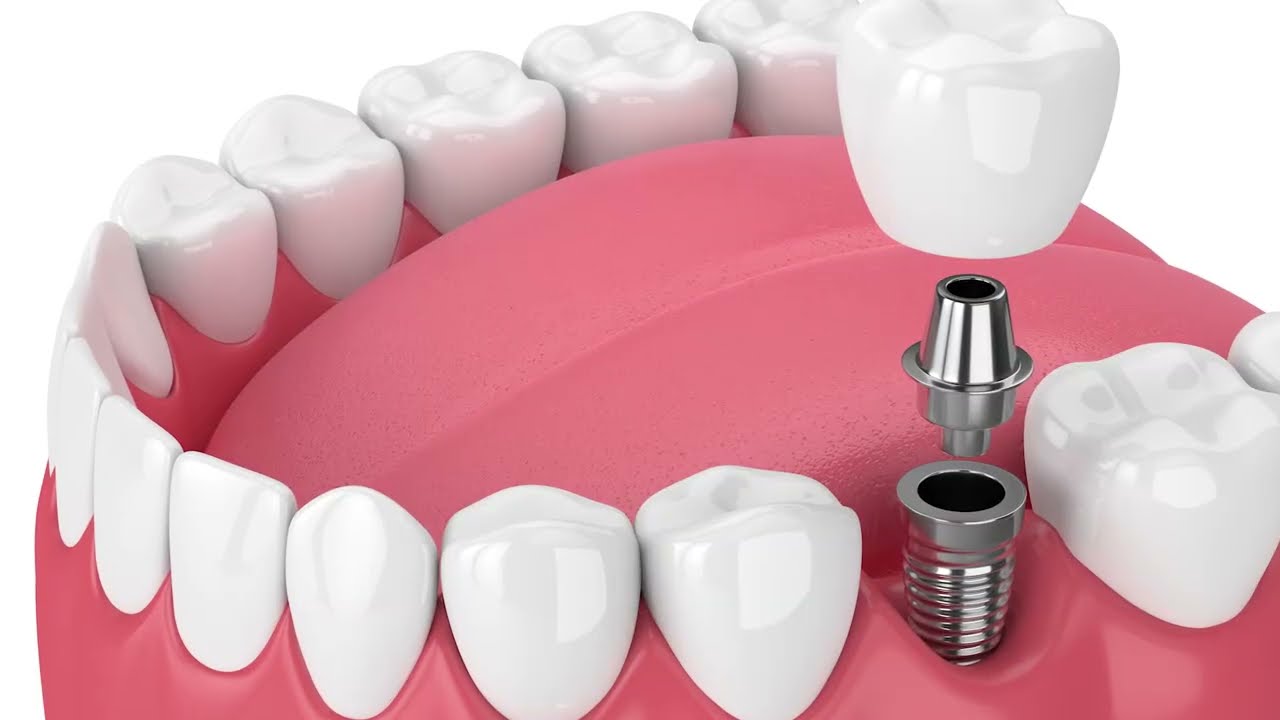 A dental implant is essentially an artificial tooth root that is surgically inserted into the jaw. These posts are made from biocompatible materials like titanium or zirconia, so once they are placed, they encourage the jawbone to grow around it until the implant has basically become a part of you. This process, called osseointegration, is what gives dental implants the strong foundation they need to support a crown, bridge, or denture on top that looks and feels flawless.
The 4-Step Dental Implant Process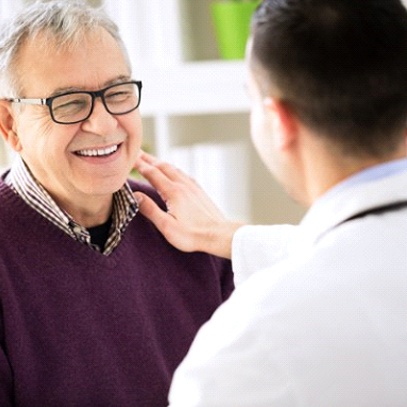 Compared to traditional tooth replacements, getting dental implants requires a longer process with several more appointments. Every patient's journey is different, but you can typically expect the same four steps: an initial consultation, dental implant surgery, osseointegration, and the placement of your final restorations. While the process can take several months, the result is a tooth replacement that's second to none. At your consultation, we'll go over your treatment plan step-by-step and give you a timeline estimate. In the meantime, here is a breakdown of how dental implants work in Garland.
Initial Dental Implant Consultation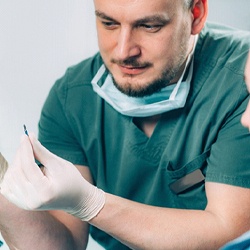 Your dental implant consultation will consist of meeting with our dental team to determine if you require preliminary treatments (i.e., bone grafting, periodontal therapy, tooth extraction, sinus lift, etc.). These may be necessary if you show signs of gum disease, severe tooth decay, or minimal jawbone density. Using advanced dental technology, we will evaluate your oral and facial structures and determine how best to help you move forward in your treatment.
Dental Implant Surgery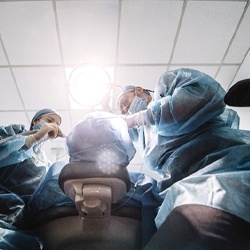 Your implant dentist in Garland will perform the entire placement surgery and restoration in-house, making for a more comfortable and convenient experience. Administering local anesthesia the day of your procedure will help to numb your mouth before small incisions are created in your gums. Exposing the underlying bone, we will place each dental implant into the corresponding location before closing the tissue and placing a protective healing cap over each surgical site.
Dental Implant Osseointegration/Abutment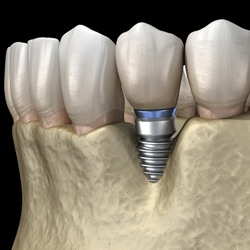 After your surgery, you will return home to recover for 3-6 months. This will ensure that osseointegration occurs successfully. This is the process of fusing the bone with the implant. During this time, you will need to adhere to the guidelines and tips provided to you by our dental team. You don't want to cause an issue to form that might hinder or cause your dental implants to fail. Once you are fully healed, you will return to our office for another small procedure that involves placing your metal abutments, which are small connectors that attach the dental implant to your custom restoration.
Delivery of Dental Implant Restorations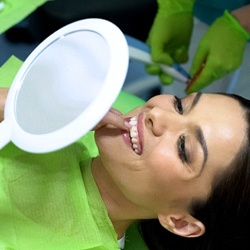 Before you can begin to enjoy your new and improved smile, you must receive your finalized restoration. The versatility of dental implants in Garland makes it possible for you to receive a dental crown, bridge, or denture. Made of high-quality materials, these prosthetics will look, feel, and act just like natural teeth, making them a beautiful option for a fully restored and fully functional smile. As you wear your dental implants, you will discover they offer many outstanding benefits that cannot be attained with other tooth replacement solutions.
Benefits of Dental Implants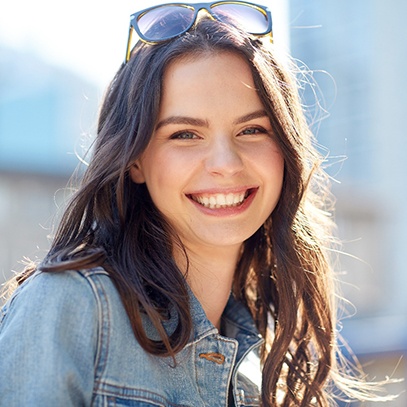 There's more than one way to replace teeth, and no single option is right for everybody. That said, dental implants certainly stand apart as replacement options due to their unique properties and the advantages they come with. We'll discuss the potential benefits of dental implants in North Garland in detail when you schedule a consultation with us. In the meantime, the list below covers some of the most significant reasons why implants are a smart investment.
Day-to-Day Benefits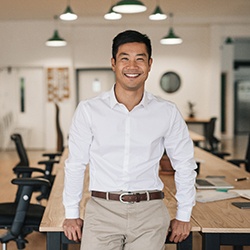 Improved Day-to-Day Functions: All forms of tooth replacement are meant to restore your ability to chew various foods and speak clearly. However, traditional dentures lack the stability of natural teeth, and as such they might give you trouble when attempting to eat certain foods; they can also slip and impact your ability to pronounce words correctly. Dental implants anchor your new teeth in place, allowing you to eat and speak as well as you could with your natural teeth. Also, the enhanced bite force means you can eat almost anything you want.
Increased Confidence: The idea that your new teeth might slip at the wrong moment could make you reluctant to smile. Not only do implant restorations not slip, but they also look and feel like natural teeth. As a result, most patients have no trouble showing them off.
Easy Maintenance: When you receive dental implants, you'll find that taking care of them isn't much different than taking care of your natural teeth. Your daily oral hygiene routine won't change much; dental implants can be brushed and flossed as if they were natural teeth. And of course, regular dental appointments to make sure small problems don't become big ones remain as important as ever.
Health Benefits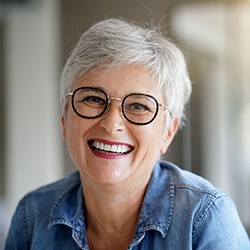 Strong Stability: Dental implants are as stable as real tooth roots and offer most of the same amount of bite force. This means you can eat almost anything you want with ease, and that means it's much easier to maintain a healthy, nutritious lifestyle.
Improved Jaw Health: As you may be aware, the jawbone starts to resorb after teeth have been lost. This is because it is no longer receiving stimulation from chewing. But with dental implants, it can once again receive the stimulation it needs, letting it stay healthy, strong, and functional.
Easy to Clean: Because it's so easy to take care of dental implants, it's also easy to keep them clean and minimize the risk of health issues like gum disease.
Long-Term Benefits
High Success Rate: Statistically speaking, dental implants have a success rate of around 95 percent even two decades after they've been placed.
Youthful Appearance: Dental implants help prevent the bone loss that leads to deterioration of the jawbone. This prevents the sunken, aged look that's associated with tooth loss.
Long Lifespan: Dentures and bridges tend to last around 10 years. Dental implants can last for 30 years or even a lifetime without needing to be replaced.
Who Dental Implants Can Help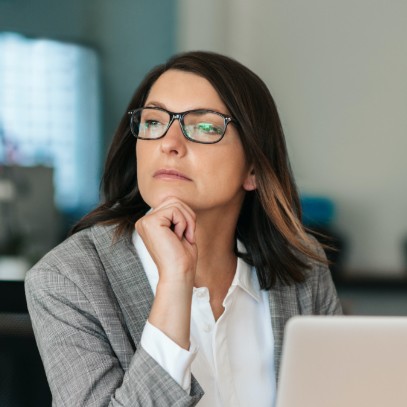 The majority of adults who have suffered tooth loss make good candidates for dental implants in Garland. As the most versatile tooth replacement, implants can be used to complete your smile no matter how many pearly whites you have lost, whether it is one, a few, or even all of them. After you meet with our dentists for a consultation, we'll develop a treatment plan based on your oral health, the number of teeth you're missing, and other important factors.
Who Is a Good Candidate for Dental Implants?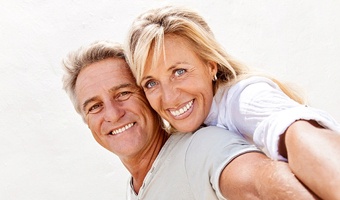 Most adults with missing teeth qualify for dental implants. Here are a few characteristics of an ideal candidate:
Fair overall health. You should be well enough to recover from minor surgery and be free of any conditions that might adversely affect your dental implants.
Good oral health. It is important that you do not have active gum disease or other oral health problems that might interfere with your implant procedure.
Adequate jawbone density. The implants will bond with your jaw, so it is vital that your bone be strong enough to support them.
Good habits. Things like excellent oral hygiene and a tobacco-free lifestyle will do much to support your implants' long-term success.
If you aren't sure if dental implants are right for you, visit us for a consultation. As a dental implant dentist in Garland, we may be able to perform treatments to prepare your mouth and help you qualify for your tooth replacement procedure.
Missing 1 Tooth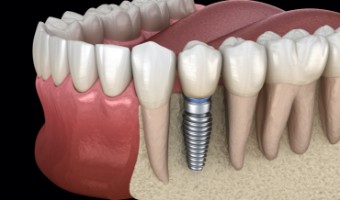 We can insert a single prosthetic tooth root (dental implant) into the empty space. After it bonds with your bone, we will top it with a personalized dental crown that blends in with the surrounding teeth and provides you with a comfortable bite. Unlike with a traditional dental bridge, the two adjacent teeth will not need to be altered, allowing you to preserve more of your natural tooth structure. Also, because the implant replaces the lost tooth from the root up, you can expect it to function and feel as much like a natural tooth as possible.
Missing Multiple Teeth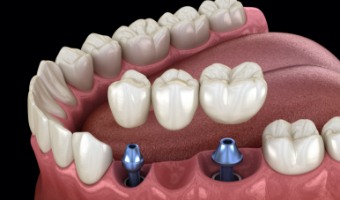 If you have two consecutive missing teeth, you may need just one dental implant, which can support a crown and a pontic (artificial tooth). If you have three or more missing teeth, we may place an implant at each end of the gap. The implants will receive crowns, and the crowns will support the necessary number of pontics between them. If your missing teeth are not in a row, you may qualify for a partial denture or a number of single-implant crowns. Once we are able to assess your oral health and the extent of your tooth loss, we will be able to make a more exact treatment recommendation.
Missing All Teeth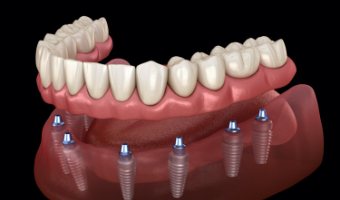 With just 4 – 6 implants placed at precise locations and angles throughout the jaw, we can provide enough support for a full denture. Implant dentures solve many of the common complaints about traditional dentures — they don't slide around on the gums, they let you eat practically anything, and they can retain their fit for years or even decades. Implant dentures may be permanently fixed in the mouth. Or, they can be secured on the implants via small clasps or attachments that make them easy to remove for routine maintenance and cleaning.
Learn More About Implant Dentures
Understanding the Cost of Dental Implants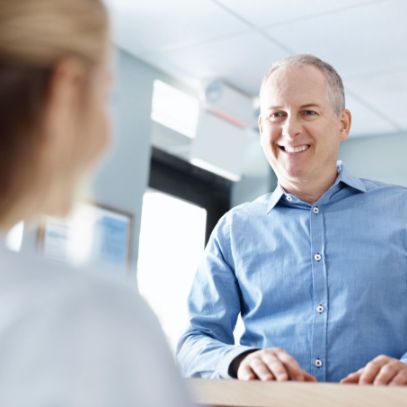 Missing teeth can affect more than just your appearance – it can have an impact on your overall quality of life as well. Fortunately, you can enjoy a fully functioning smile once again by getting dental implants in Garland. Since each smile is unique, the total cost of treatment can vary greatly from patient to patient based on many variables. At your consultation, our team at North Garland Family Dental will thoroughly explain the pricing information and payment options so you know exactly what to expect.
Preliminary Treatments & Dental Implant Surgery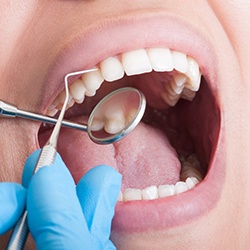 Patients must have good oral health to be eligible for dental implants in Garland. Because of that, preliminary dental work may be needed before moving forward with the process. Although gum disease treatment, tooth extractions, and bone grafting will add to the overall cost of your treatment, they're necessary for maximizing the success of your new smile. Luckily, most of those services are partially covered by dental insurance.
Dental implant surgery has a unique cost of its own, which is usually affected by the location of the surgical site and the type of sedation needed. At North Garland Family Dental, the entire process will be completed in our office from start to finish, meaning you don't have to worry about receiving a bill from a different practice.
The Parts of Your Dental Implant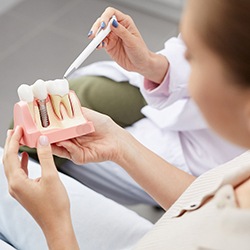 The total cost of dental implants in Garland is affected by several factors, including:
Number of Implants – Logically speaking, replacing a single missing tooth with one dental implant will cost less than replacing a row of teeth with an implant denture.
Type of Restoration – Crowns, bridges, and dentures all have different costs. It's worth noting that the smaller the restoration is, the less expensive it typically is.
Material – Some implants are made of zirconia instead of titanium, which affects the overall price.
Brand – Different manufacturers make different dental implants to meet the needs of various patients. Since that'll affect your total expenses, you should ask about the manufacturer and any brand-specific benefits.
How Dental Implants Pay for Themselves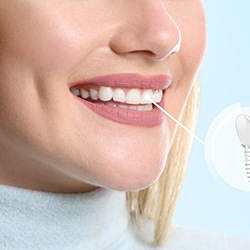 Even though dental implants have a higher upfront cost than traditional dentures and dental bridges, many patients find that they're worth every penny. They end up paying for themselves in the long run because you don't have to pay for replacements or adjustments every few years. Additionally, you don't have to worry about purchasing special pastes, cleaning solutions, adhesives, or other products to care for your new smile. All you have to do is brush twice a day, floss daily, and rinse daily with an ADA-approved mouthwash – that's it! Practicing good oral hygiene will keep your smile healthy for years to come, helping you save thousands on dental care.
Does My Dental Insurance Cover Dental Implants?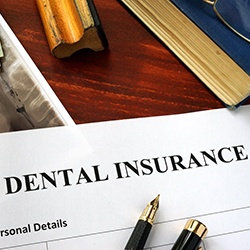 Most dental insurance plans do not cover dental implants. However, there are some exceptions. For instance, certain parts of the final restoration or preliminary treatments are usually covered. Make sure you call your insurance provider and confirm the details of your policy before committing to anything. Our team is more than happy to help with that step if needed.
Making Dental Implants Affordable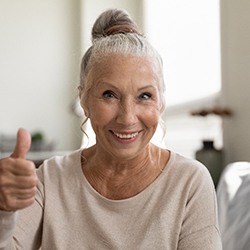 Are you worried about breaking the bank? We've got you covered! At North Garland Family Dental, there are many ways we can make the cost of your dental implants much easier to manage. Currently, we have a special offer that allows you to get start-to-finish dental implants for as low as $362 per month. Some additional financing options include:
CareCredit Financing – This option allows you to split up the overall cost of your treatment into smaller, budget-friendly monthly installments.
Dental Membership Plan – For one flat annual fee, you can enjoy an affordable alternative to insurance with many of the same benefits as a traditional plan. Plus, you'll have access to multiple discounts that will help you save big at every appointment.
Maintaining & Caring for Your Dental Implants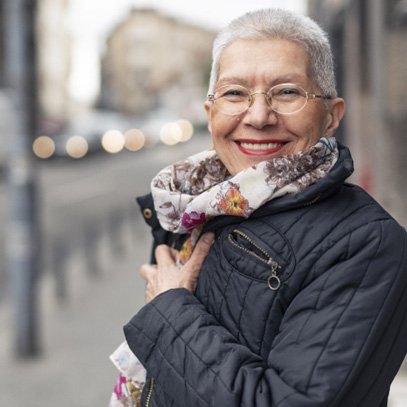 Dental implants can last for upwards of 30 years or even the rest of your life if you are taking all the right steps to care for them. If you aren't taking the time to protect your dental implants from becoming damaged, they could end up failing and needing to be replaced. The good news is that with just a few simple precautions, you can keep your implants healthy and enjoy their benefits for numerous years down the road.
Make Oral Hygiene a Priority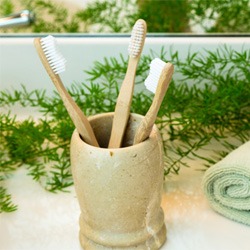 Dental implants cannot get cavities themselves, but you should still practice excellent oral hygiene. In addition to keeping your surrounding teeth in good shape, sticking to a great oral hygiene routine can prevent other dental problems, like gum disease, that can cause your implants to fail. Remember to brush, floss, and rinse with mouthwash every day.
Eat a Healthy Diet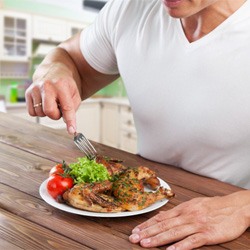 One of the many benefits of getting dental implants is the fact that you won't have any restrictions. You can easily enjoy nutritious meals without struggling to chew. Just remember that enjoying too many foods that are hard, sticky, or sugary can be problematic for your oral health, so it still pays to be wary.
Break Bad Habits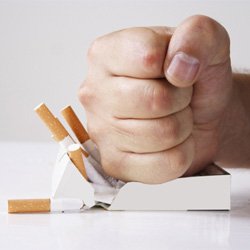 Refrain from smoking or using tobacco products immediately after your dental implant placement procedure. This can slow down healing and increase your risk of developing an infection. Don't use your teeth as tools either. You could end up accidentally damaging your dental implants or surrounding teeth. Instead, try to find some scissors, pliers, a bottle opener, or another tool to help you safely complete your task.
Protect Your Dental Implants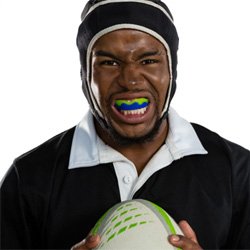 Your dental implants may be strong, but they aren't indestructible. You should always wear a mouthguard to protect your dental implants and natural teeth when participating in sports. If you grind your teeth at night, ask about a nightguard to protect your implants from additional wear and tear.
Schedule Regular Dental Checkups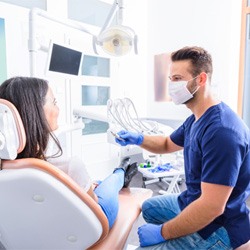 You should always attend regular cleanings and checkups twice a year. This way, we can monitor your dental implants and spot any issues as early as possible. By catching potential problems now, you can prevent them from becoming more serious and leading to greater consequences, like a dental implant failure.
Dental Implant FAQs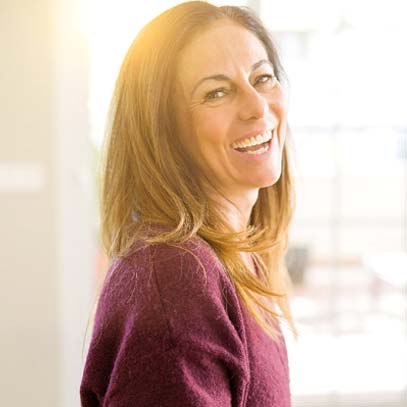 Dental implants are by far the most comprehensive solution to missing teeth, but it's understandable if you have questions about the procedure. Our team is happy to go over your concerns and answer any questions you may have before you make a decision on your tooth replacement. We've included a handful of some of the many questions we've heard over the years, but you're welcome to bring up any concerns during your consultation as well.
Are Dental Implants Safe?
If you have good health, orally and overall, you're likely to have a successful implant placement when treatment is performed by a professional. However, low jawbone density and gum disease can inhibit your success. The good news is these issues can be handled ahead of your implant surgery to ensure the best outcome possible. While having a preexisting condition can make treatment more tricky (such as cancer, diabetes, or other medical conditions that affect the body's ability to heal), we're happy to discuss these with you during your consultation.
How Long Does It Take to Recover from Dental Implant Surgery?
After you've had a day or so to rest, you should be able to resume most normal activities. The main exception to this is strenuous exercise and eating very hard or crunchy foods. Bleeding and facial swelling should stop after a few days as the implant heals. If you experience discomfort, we encourage you to take painkillers as directed, whether they be prescribed or over-the-counter. The recovery period will only last up to a week in most cases, but the implant will take anywhere between four and six months to fully fuse with your jawbone.
Will People Be Able to Tell That I Have Dental Implants?
After capturing impressions of your mouth, we can use this mold to design restorations that are highly personalized to your needs. After the restorations are placed, only you and our office will know that you have them. No one should be able to notice that you have dental implants (that is, unless you tell them). Unlike dentures, you won't need to hold your jaw in a specific way just to ensure your implants will stay in place. This is one of the many reasons why dentists recommend them over traditional dentures, especially if you are used to wearing one day-to-day.
Do I Need a Bone Graft Before Getting Dental Implants?
Jawbone tissue typically atrophies (or breaks down) when a tooth is removed and no replacement is provided. This is because the root of the tooth regularly stimulates the bone.
A bone graft involves placing a piece of bone tissue (which can either come from the patient, a transplant, or be artificially made) and placing it inside the open socket left behind after the tooth was extracted to strengthen the jawbone. As a result, it can expand the amount of tissue available and make it possible for the implant to fuse properly.
Our team will be able to determine if a bone graft is needed following your consultation. If this is the case, you'll be referred to an oral surgeon who can perform the procedure ahead of your implant surgery.