Dental Implants – Garland, TX
Tooth Replacement That's Second to None
For patients who are missing one, several, or even all of their teeth, dental implants are usually our first recommendation. Unlike dental bridges and dentures that only bring back the visible sections of the teeth, dental implants recreate the entire tooth structure. As a result, they're able to look more lifelike, restore more function, and last much longer than other solutions. With the help of our expert periodontist, Dr. Vasquez, and our former Master Lab Technician, Dr. Ambriz, we can perform every step of the dental implant process in one dental office and ensure reliable, attractive results. To learn more about this truly unmatched tooth replacement, contact North Garland Family Dental today for a consultation to discuss dental implants with our Garland, TX dentist.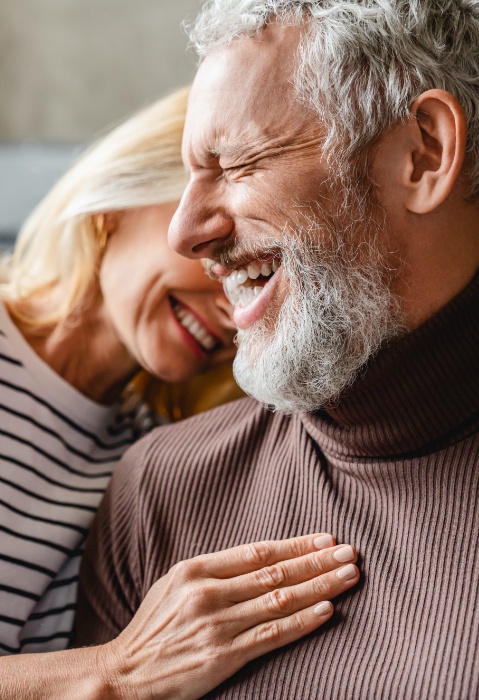 Why Choose North Garland Family Dental for Dental Implants?
Entire Dental Implant Treatment Completed Under One Roof
Former Master Dental Lab Technician on Staff
Dental Insurance Accepted & Financing Available
What Are Dental Implants?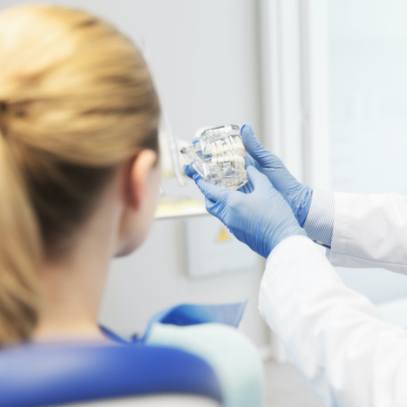 A dental implant is essentially an artificial tooth root that is surgically inserted into the jaw. These posts are made from biocompatible materials like titanium or zirconia, so once they are placed, they encourage the jawbone to grow around it until the implant has basically become a part of you. This process, called osseointegration, is what gives dental implants the strong foundation they need to support a crown, bridge, or denture on top that looks and feels flawless.
The 4-Step Dental Implant Process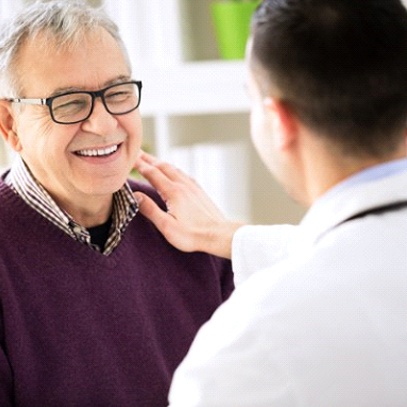 Compared to traditional tooth replacements, getting dental implants requires a longer process with several more appointments. Every patient's journey is different, but you can typically expect the same four steps: an initial consultation, dental implant surgery, osseointegration, and the placement of your final restorations. While the process can take several months, the result is a tooth replacement that's second to none. At your consultation, we'll go over your treatment plan step-by-step and give you a timeline estimate. In the meantime, here is a breakdown of how dental implants work in Garland.
Initial Dental Implant Consultation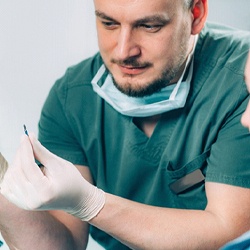 Your dental implant consultation will consist of meeting with our dental team to determine if you require preliminary treatments (i.e., bone grafting, periodontal therapy, tooth extraction, sinus lift, etc.). These may be necessary if you show signs of gum disease, severe tooth decay, or minimal jawbone density. Using advanced dental technology, we will evaluate your oral and facial structures and determine how best to help you move forward in your treatment.
Dental Implant Surgery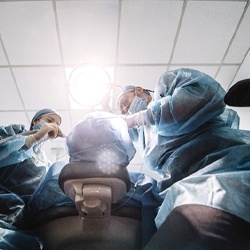 Your implant dentist in Garland will perform the entire placement surgery and restoration in-house, making for a more comfortable and convenient experience. Administering local anesthesia the day of your procedure will help to numb your mouth before small incisions are created in your gums. Exposing the underlying bone, we will place each dental implant into the corresponding location before closing the tissue and placing a protective healing cap over each surgical site.
Dental Implant Osseointegration/Abutment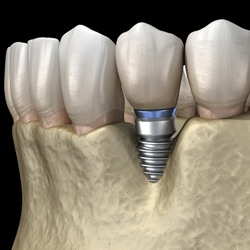 After your surgery, you will return home to recover for 3-6 months. This will ensure that osseointegration occurs successfully. This is the process of fusing the bone with the implant. During this time, you will need to adhere to the guidelines and tips provided to you by our dental team. You don't want to cause an issue to form that might hinder or cause your dental implants to fail. Once you are fully healed, you will return to our office for another small procedure that involves placing your metal abutments, which are small connectors that attach the dental implant to your custom restoration.
Delivery of Dental Implant Restorations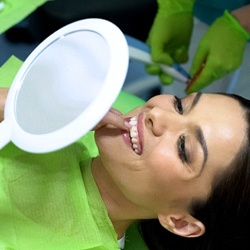 Before you can begin to enjoy your new and improved smile, you must receive your finalized restoration. The versatility of dental implants in Garland makes it possible for you to receive a dental crown, bridge, or denture. Made of high-quality materials, these prosthetics will look, feel, and act just like natural teeth, making them a beautiful option for a fully restored and fully functional smile. As you wear your dental implants, you will discover they offer many outstanding benefits that cannot be attained with other tooth replacement solutions.
Benefits of Dental Implants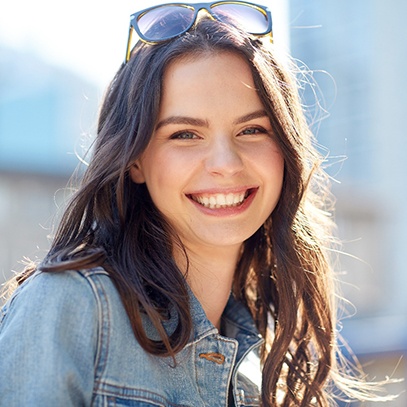 There's more than one way to replace teeth, and no single option is right for everybody. That said, dental implants certainly stand apart as replacement options due to their unique properties and the advantages they come with. We'll discuss the potential benefits of dental implants in North Garland in detail when you schedule a consultation with us. In the meantime, the list below covers some of the most significant reasons why implants are a smart investment.
Day-to-Day Benefits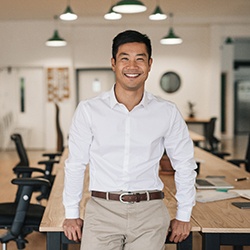 Improved Day-to-Day Functions: All forms of tooth replacement are meant to restore your ability to chew various foods and speak clearly. However, traditional dentures lack the stability of natural teeth, and as such they might give you trouble when attempting to eat certain foods; they can also slip and impact your ability to pronounce words correctly. Dental implants anchor your new teeth in place, allowing you to eat and speak as well as you could with your natural teeth. Also, the enhanced bite force means you can eat almost anything you want.
Increased Confidence: The idea that your new teeth might slip at the wrong moment could make you reluctant to smile. Not only do implant restorations not slip, but they also look and feel like natural teeth. As a result, most patients have no trouble showing them off.
Easy Maintenance: When you receive dental implants, you'll find that taking care of them isn't much different than taking care of your natural teeth. Your daily oral hygiene routine won't change much; dental implants can be brushed and flossed as if they were natural teeth. And of course, regular dental appointments to make sure small problems don't become big ones remain as important as ever.
Health Benefits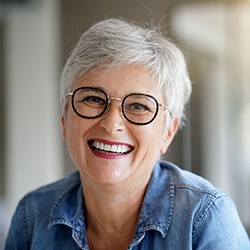 Strong Stability: Dental implants are as stable as real tooth roots and offer most of the same amount of bite force. This means you can eat almost anything you want with ease, and that means it's much easier to maintain a healthy, nutritious lifestyle.
Improved Jaw Health: As you may be aware, the jawbone starts to resorb after teeth have been lost. This is because it is no longer receiving stimulation from chewing. But with dental implants, it can once again receive the stimulation it needs, letting it stay healthy, strong, and functional.
Easy to Clean: Because it's so easy to take care of dental implants, it's also easy to keep them clean and minimize the risk of health issues like gum disease.
Long-Term Benefits
High Success Rate: Statistically speaking, dental implants have a success rate of around 95 percent even two decades after they've been placed.
Youthful Appearance: Dental implants help prevent the bone loss that leads to deterioration of the jawbone. This prevents the sunken, aged look that's associated with tooth loss.
Long Lifespan: Dentures and bridges tend to last around 10 years. Dental implants can last for 30 years or even a lifetime without needing to be replaced.
Who Dental Implants Can Help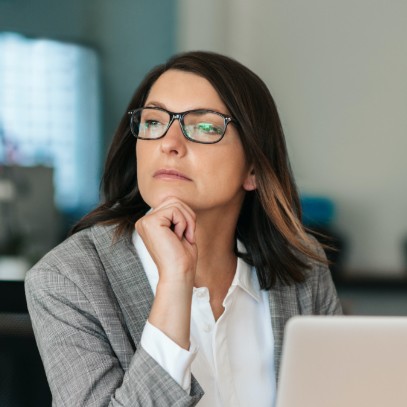 The majority of generally healthy adults who have suffered from tooth loss make good candidates for dental implants. As the most versatile tooth replacement, we can use dental implants to complete your smile no matter how many pearly whites you have lost. After meeting with our dentists for a consultation, we'll develop a treatment plan based on the number of teeth you're missing.
Missing One Tooth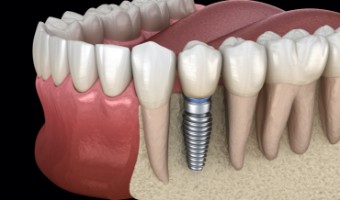 We can insert a single implant post into the empty space and top it with a personalized dental crown that blends in with the surrounding teeth. Unlike a traditional dental bridge, the two adjacent teeth will not need to be altered, allowing you to preserve more of your natural tooth structure.
Missing Multiple Teeth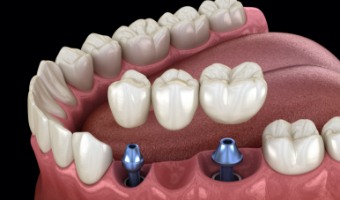 A small number of implant posts can be strategically placed to anchor a dental bridge or partial denture into place. Not only will your restoration be indistinguishable from your remaining teeth, but the implants will give it a longevity and stability that conventional solutions cannot.
Missing All Teeth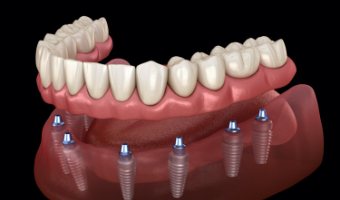 With just four to six implants placed at precise locations and angles throughout the jaw, we can provide enough support for a full denture. Implant dentures solve many of the common complaints about traditional dentures – they don't slide around on the gums, they let you eat practically anything, and they retain their fit for years, even decades, to come.
Cost of Dental Implants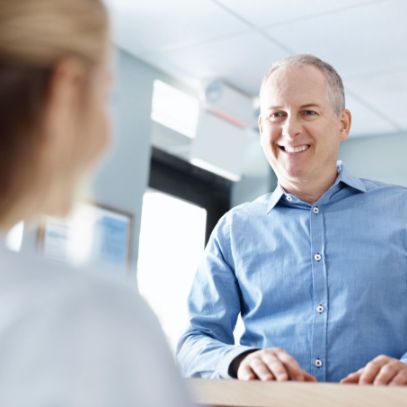 Each smile is unique, so the cost of dental implants can vary greatly between patients based on many variables, including the number of implants needed, the location of those implants in the mouth, and the type of restoration. We'll discuss pricing information and payment options at your consultation.
Keep in mind that although dental implants cost more at first than dentures or bridges, they can last exponentially longer. When you factor in the price of repairing or replacing a traditional prosthetic, you'll find that dental implants are the better financial investment in the long run.