Veneers – Garland, TX
Transform the Appearance of Your Teeth
Not all of us naturally developed a perfect-looking smile. It is common to have imperfections that litter the teeth. Fortunately, there are a variety of cosmetic options available that can help you achieve the pearly whites you've been dreaming of. At North Garland Family Dental, we offer customized veneers so you can transform the appearance of your teeth. To learn more about veneers and find out if they're the right option for you, give us a call to schedule a consultation.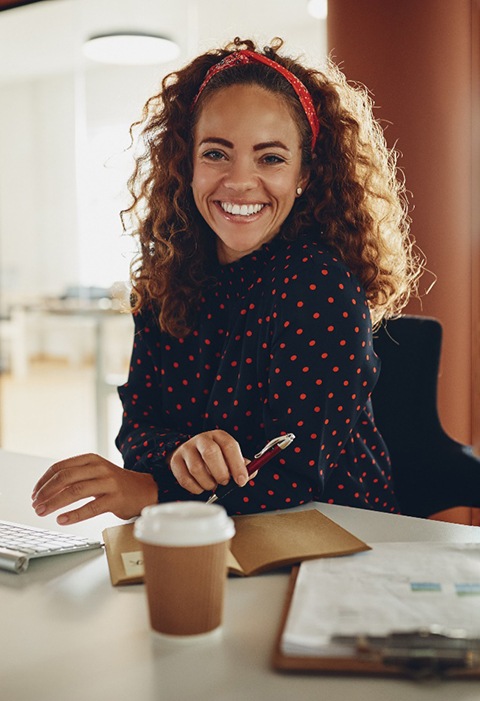 Why Choose North Garland Family Dental For Veneers?
Former Master Dental Lab Technician on Staff
Customized for Natural-Looking Appearance
Can Last 15+ Years with Proper Maintenance
What Are Dental Veneers?
Veneers are thin shells of tooth-colored porcelain placed over the front-facing surfaces of the teeth to mask imperfections. This durable, natural-looking material is able to conceal a single damaged tooth or a mouthful of cosmetic flaws. Usually, veneers are used to address teeth that are chipped, gapped, misaligned, misshaped, discolored, undersized, and more.
The Process of Getting Veneers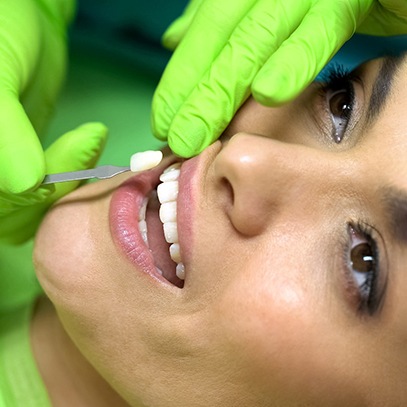 It usually takes two appointments for veneers to be placed. During your initial visit, we will prepare your teeth by removing a minimal portion of your enamel to ensure that the veneers will lay flat against your smile. Once your teeth are prepped, we will take impressions to send off to the dental lab. You will be given temporary ones in the meantime. In just a few short weeks, you will return to the practice and your final restorations will be adhered to your teeth.
Benefits of Veneers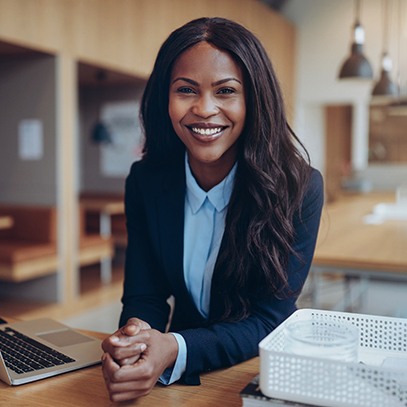 There are all sorts of benefits that you can expect to experience when you get your veneers. Here are just some of them:
Natural Appearance: The dental porcelain used to make veneers appears just like natural tooth enamel.
Quick Process: Veneers can be placed in as few as two appointments.
Permanent Whitening: Veneers are more resistant to staining than natural tooth enamel, so you won't need to worry about discoloration from dark pigmented foods or beverages.
Long-Lasting: When cared for properly, veneers can last upwards of 15 years before needing to be replaced.
Understanding the Cost of Veneers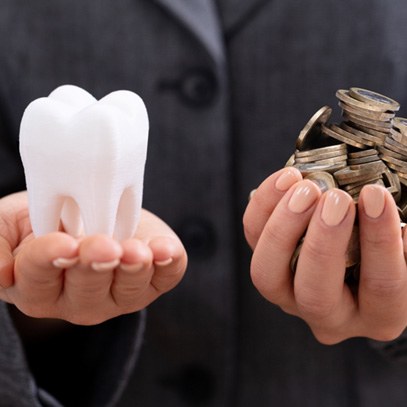 If you're not happy with the way your teeth look, you can have a picture-perfect smile without it costing you an arm or a leg. Although veneers are associated with a large price tag, they can be the most affordable option to address many issues at once. Various factors affect the cost of veneers, but our team of dentists at North Garland Family Dental strives to keep a confident, stunning smile within everyone's budget. We have the solutions you need to revamp your teeth without spending your life's savings.
Cost vs. Cosmetic Dentistry: What's Right For Me?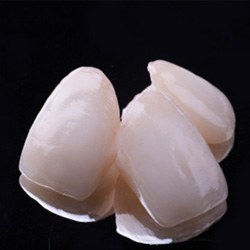 You have more options than ever to address common aesthetic issues, like stains, gaps, and chips. Your cosmetic dentist will examine your mouth to determine which procedures are right for you. They will discuss their timeline, life expectancy, and cost to help you make the best decision for your goals and budget. Common cosmetic treatments include:
Braces: Whether metal braces or clear liners, you can fix a variety of bite and alignment issues in about 12 to 24 months, depending on the method you choose. Your dental insurance may cover part of the expense, but it can be a long commitment if you only need minor adjustments or you have other imperfections you'd like to address.
Teeth Whitening: Teeth whitening can improve the appearance of surface and age-related discoloration by up to 8 shades. Generally, it's not covered by dental insurance, but your results can last for many months or years with the right aftercare, like brushing and flossing.
Direct Bonding: Dental bonding is an affordable and convenient option to fix minor imperfections, like chips and cracks. Depending on your situation, your dental insurance may cover a portion of the cost. Your results can last for 5 to 10 years before needing to be replaced.
Veneers: Veneers can be the most cost-effective option to resolve numerous issues at once. Bonding them to the front surfaces of the teeth visible when smiling instantly covers a variety of imperfections, like stains, chips, and gaps between teeth. In just two appointments, your dazzling new smile can last for a decade or longer using a minimally invasive method.
How to Make Veneers Affordable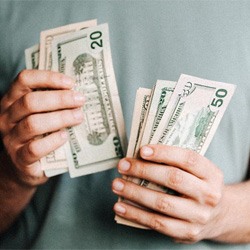 Our office offers various financial solutions to keep an attractive smile within everyone's budget. A member of our office will review your estimate and explain your fees during your consultation. They will also discuss your payment options, including:
Traditional Payments: Our office accepts cash, personal checks, and credit cards.
Dental Insurance: Your dental insurance may cover your consultation, diagnostic imaging, and any preparatory procedures. It's rare for dental insurance to cover elective services, like veneers, unless they are medically necessary. We will work on your behalf with your dental insurance to maximize any appropriate benefits to lower the amount you'll pay out-of-pocket.
Monthly Installments: You can pay any expenses using monthly installments through a third-party financing company, like CareCredit. You can enjoy little or no interest in financing based on your credit approval.
Special Offers: We offer various promotions to keep our services affordable, like a free smile makeover consultation.
Veneer FAQs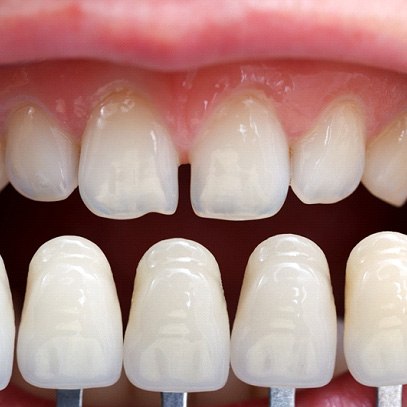 Veneers can radically change the way you look to others, which can generate a massive shift in how you feel on a day-to-day basis. While that can be an exciting prospect, it can also be a scary one. As a result, you may have a few questions about veneers that you want to get straight before beginning the procedure.
We'd be happy to talk to you about any aspect of the procedure you'd like, and if you'd like to learn more before seeing us, here are our answers to some of the most common questions that we get.
Are Veneers Permanent?
Any given set of veneers won't last forever—they'll need to be replaced eventually. In that sense, veneers are not permanent. However, in order for veneers to be placed properly on the teeth, there is a small amount of enamel that has to be removed. This enamel does not grow back, and as a consequence, your teeth will constantly need veneers to protect them.
Therefore, while it's not correct to say that veneers are permanent, the procedure to obtain them is irreversible.
What Happens to the Teeth Under Veneers?
While placing veneers requires your dentist to remove portions of your enamel, this shouldn't compromise the overall health of your teeth. Your veneers will be able to protect your teeth, and after a few weeks, you shouldn't notice any difference in how your teeth feel.
Your teeth are also still susceptible to cavities, which means that you still need to brush and floss your teeth thoroughly if you want to keep them healthy.
Will I Still Be Able to Drink Coffee with Veneers?
Veneers are typically made out of porcelain, which is considerably less porous than your natural enamel. As a result, they're naturally more stain-resistant than your teeth. For that reason, you can expect your coffee habit to have much less of an impact on your veneers than it did on your natural teeth.
However, that isn't necessarily a good thing. If your natural teeth are a different color than your veneers, it becomes obvious that some of your teeth aren't quite "real." It's also worth noting that porcelain is "stain-resistant," not "stain-proof;" if you drink enough coffee, you'll start to see your veneers become discolored.
Can You Whiten Veneers?
While veneers are resistant to stains, the opposite is also true. The whitening solutions that are used in dentistry also aren't able to penetrate enamel, which means that your veneers aren't going to be affected by it.
Moreover, the whitening solution can potentially negatively impact the bonding solution that connects your veneers to your teeth.
This being the case, we usually wouldn't recommend tooth whitening for people with veneers. If you want to benefit from what teeth whitening has to offer, we would suggest getting the treatment before getting your veneers and having them made to match.