Dentures – Garland, TX
Seamlessly Replace the Gaps in Your Smile
Missing some or all of your teeth can affect more than just your appearance – it can affect your quality of life as well. Fortunately, you don't have to live that way forever. At North Garland Family Dental, we can rebuild your smile and restore your self-confidence with dentures. In fact, about 40 million Americans already wear full or partial dentures. Will you be next? To learn more about dentures in Garland, continue reading or reach out to us to schedule a consultation today!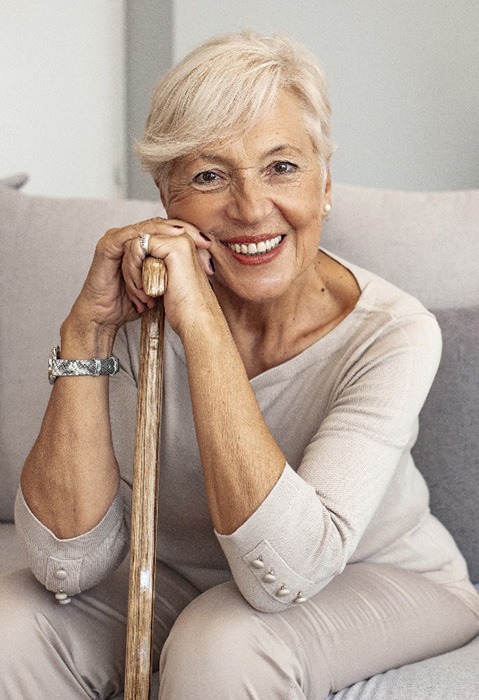 Why Choose North Garland Family Dental for Dentures?
Implant Dentures Available
Custom-Made for Natural-Looking Results
Insurance-Friendly Dental Practice
Who is a Good Candidate for Dentures?
If you're missing several, most, or all of your teeth, you may be eligible for dentures in Garland. At your consultation, we'll conduct an oral examination to determine whether this tooth-replacement solution is right for you. Any existing oral health issues (i.e., decay, cavities, gum disease) will need to be treated before you can move forward with the process of getting dentures. Our goal is to create an effective, personalized treatment plan that will improve the appearance and function of your smile.
Types of Dentures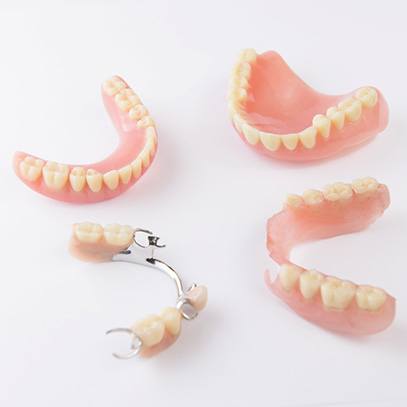 The first step on your journey towards a rebuilt smile is a consultation with our team at North Garland Family Dental. We'll explain a few different types of dentures that are available and how they cater to the unique needs of each patient. Based on your evaluation, we'll recommend one of the following:
Partial Dentures
Do you still have some remaining teeth? A partial denture may be the ideal solution for you. It has an acrylic or metal base and is designed to fill in the gaps between your teeth perfectly. Small clasps attached to your remaining natural teeth will hold your restoration firmly in place, allowing you to enjoy a complete, fully functioning smile.
Full Dentures
If you're missing an entire arch of teeth, full dentures may be right for you. Like partials, they have a discreet, gum-colored base and lifelike prosthetic teeth. However, full dentures are held in place by the shape and suction of your gum tissue.
Implant Dentures
Implant dentures are a sturdier, more long-lasting option to replace your missing teeth. They hold your denture in place with titanium posts that are surgically inserted into the jawbone to mimic natural tooth roots. Once the implants fuse with the surrounding bone tissue via osseointegration, they'll provide maximum stability and prevent bone loss from occurring over time.
The Benefits of Dentures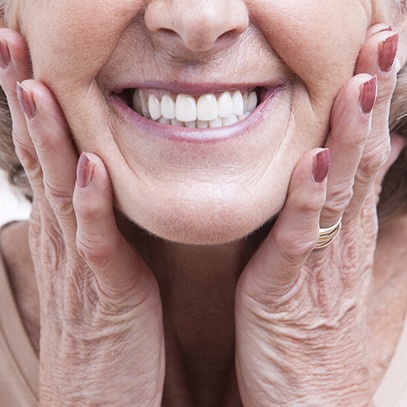 Many patients opt for dentures because of the incredible benefits they provide, such as:
Facial muscle support
Regained ability to eat a nutritious diet
Maintained alignment of surrounding teeth
Improved oral health
Boost of self-confidence
Easy cleaning and lower maintenance
Natural-looking results
Understanding the Cost of Dentures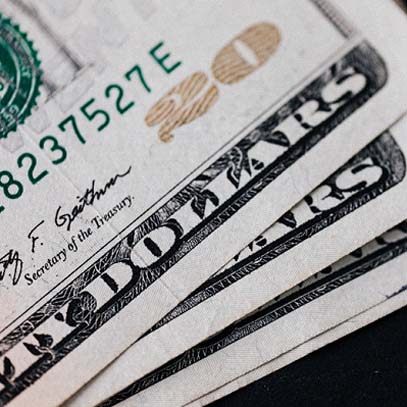 If you have concerns about the cost of dentures in Garland, you're not alone. At North Garland Family Dental, we strive to keep them affordable for everyone. The amount you will pay is determined by your specific needs, like how many teeth you're missing. We'll provide you with a personalized estimate and review your payment options to keep a complete smile within your budget.
Factors That Affect the Cost of Dentures
There isn't a one-size-fits-all denture because everyone's mouth is unique, just like fingerprints. Therefore, various factors affect their cost, such as:
Preparatory Treatments: It's not unusual to require a little prep-work before getting your denture, like tooth extractions, gum disease treatment, or gum grafting.
Number of Teeth: The number of teeth you're replacing will influence the cost, as well as if you're treating one or both arches.
Type of Denture: Besides traditional partials and dentures, you can also choose from implant-supported options.
Materials: You'll find discounted materials, but keep in mind, you'll get what you pay for.
Although everyone likes to save money, don't pinchpennies when investing in dentures in Garland. It's best to focus on quality to ensure your new smile serves you for many years.
Are Implant Dentures More Expensive?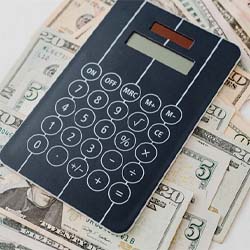 Implant dentures cost more upfront than traditional prosthetics, but they are the most cost-effective because they can last for decades. You won't have to budget for new teeth every few years. You'll also benefit from lower oral health expenses because implant dentures will keep your jawbone strong to avoid common issues caused by tooth loss, like gum disease. While they may have a higher price tag, budgeting for implant dentures can be easier because you don't have to come up with a lump sum. The process is performed in multiple steps with separate fees, so you can pay as you go.
Does Dental Insurance Cover Dentures?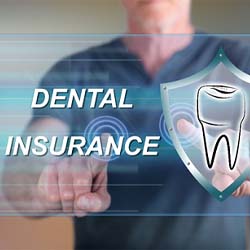 Most dental insurances can be used to offset the fees for certain steps in your treatment plan, like the consultation with your denture dentist in Garland. After meeting your deductible, you can use your annual allowance to pay up to 80% of specific services until reaching your yearly limit. We know dental insurance is confusing, but we are here to help. We will file the required forms to maximize any applicable coverage, so you have one less thing on your plate.
Other Options for Making Dentures Affordable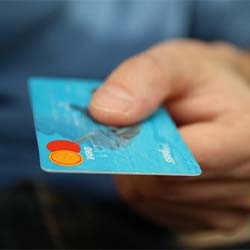 Besides using dental insurance, we offer multiple financial solutions to accommodate your budget. We will review each option during your consultation, which includes:
Traditional Payments: We accept all forms of traditional payments, including cash, checks, and credit cards.
Special Offers: Ask us about any current special offers.
Third-Party Financing: Pay for your new smile using monthly installments through a third-party financing company, like CareCredit.
If you have any questions about paying for dentures, or you're ready to replace your lost teeth, contact our office today. We look forward to restoring the beautiful, functional smile you deserve.
Dentures FAQs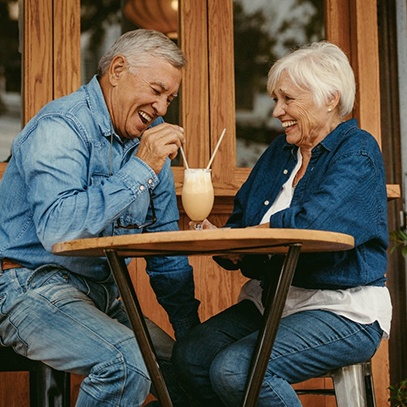 Dentures are a lifechanging tooth replacement option for people who are missing several, most of, or all of their teeth. However, you may still have some answered questions, so we're here to help! Here are the answers to some of the most common queries we receive about dentures in Garland. If you don't see the information that you're looking for below, don't worry. Give us a call and we'd be happy to answer your questions and get you started with an initial consultation.
Should I Have All My Teeth Pulled to Get Dentures?
Repairing a damaged tooth whenever possible will always be preferable to replacing it. Tooth extractions of any kind will only ever be recommended if deemed absolutely necessary, like when a tooth is too damaged to save thanks to extensive decay, severe infection, or trauma. If all of the teeth in an arch are decayed or infected with gum disease, replacing them with dentures may be a viable option, but your dentist will always explore all of your options before recommending extractions for dentures.
Can I Sleep with My Dentures?
Dentists generally recommend that you take your dentures out at night when you go to bed. When you first get dentures, you will likely be told to keep them in your mouth for 24 hours, including when you sleep. After this, you should be taking them out each evening. This is because dentures restrict the circulation in the gums, leading to soft-tissue irritation and potentially speeding up ridge resorption. Taking your dentures out at night gives your gums a chance to recover and get the nutrients they need during the night.
Will It Hurt to Get Dentures?
If you need to have teeth extracted before you can get dentures, you may experience some discomfort after the oral surgery. Take your prescribed medication as directed, and the discomfort should improve 3 to 5 days after the procedure. When you first receive new dentures, some minor irritation may occur while your mouth adjusts to the new appliance. The amount of time that this lasts varies from person to person. If discomfort persists, give us a call so we can help!
Is It Hard to Talk with Dentures?
When you first get dentures, it will take some time to get used to speaking with them since you're so used to sleeping with your natural teeth. The exact amount of time it takes to get used to speaking with dentures will vary from person to person, but generally speaking, the more your practice, the faster the adjustment process goes. Read out loud to yourself and repeat difficult-to-pronounce words. Speak slowly at first, as fast speech can sound muffled when you aren't quite used to your dentures yet.