Implant Dentures – North Garland, TX
Stop Struggling with Dentures Thanks to Dedicated Implants
Dentures remain one of the most common methods of replacing all teeth in one or both arches, but they aren't without their shortcomings. For many, dentures don't stay in place after several years of use, making them difficult to live with day-to-day. Additionally, they can still make tasks like chewing and speaking difficult, especially after having them for a very long time. To improve not just the functionality of your tooth replacement, but the esthetics and longevity as well, consider implant dentures in North Garland. Give our office a call today to schedule a consultation with our dentists and learn if implant dentures are right for you!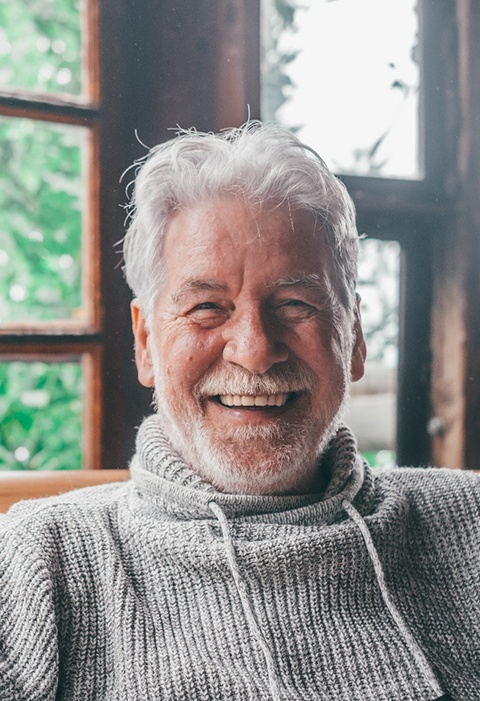 What are Implant Dentures?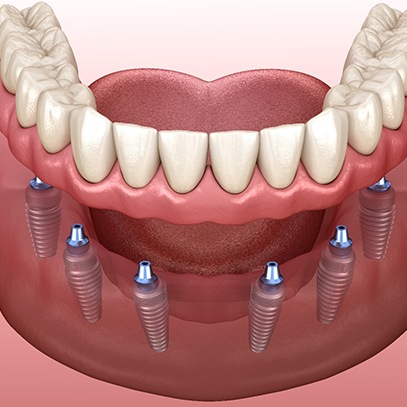 Implant dentures are similar to traditional dentures, however, they do not rely on the shape of the mouth or natural suction to the gums to remain in place. Instead, they attach to a series of dental implants that are placed throughout the jaw ahead of time. This gives your denture the stability it needs to remain secure and functional for decades to come. Depending on your needs, our office may recommend one of two types of implant dentures: fixed or removable.
Fixed/Permanent Implant Dentures
A fixed implant denture is not meant to be removed by anyone other than a dentist. Also known as a hybrid prosthesis, fixed implant dentures typically require four to six implants. As a result, you may just forget that you're wearing implant dentures in the first place! However, you will need to have sufficient bone tissue so the implants can integrate properly.
Removable Implant Dentures
Sometimes called "snap-on dentures", removable implant dentures are designed to be taken out for regular cleaning day-to-day. This makes them more similar to traditional dentures, despite relying on dental implants to remain secure. Those with limited bone tissue will be happy to learn that they only require two to five implants to hold.
The Implant Denture Procedure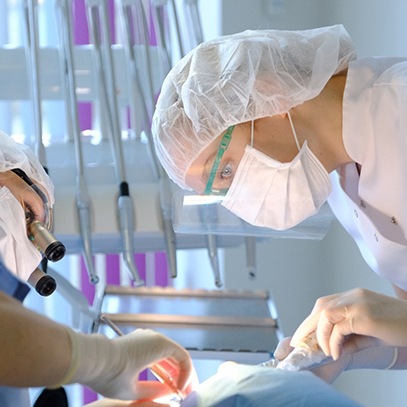 Our office completes the entire implant procedure under one roof, so you can expect the same friendly faces when it comes time to place and restore your dental implants. Dental implant treatment comes in four main phases: consultation and preparation, surgery, healing, and restoration. After examining your mouth, we can begin planning your treatment as well as confirm if preparatory procedures must be completed ahead of surgery. On the day of surgery, small incisions and tiny holes are created in the jaw so the implants can be placed. The implants will undergo a several-month-long healing process, allowing them to fuse with the jaw. After healing is finished, we'll place the abutments (or connectors for the denture), allow a few more weeks of healing to occur, then have you come back one last time for your permanent denture.
Am I a Candidate for Implant Dentures?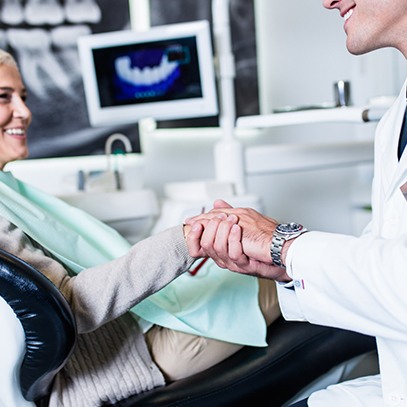 Most adults who have good oral and overall health can receive dental implants and we will review your mouth closely to confirm your eligibility. You should be able to complete minor oral surgery, be free of any gum disease or cavities, and have sufficient bone tissue. We'll get you scheduled for additional treatments to make dental implant possible if necessary (such as a bone graft).
Benefits of Combining Dentures & Dental Implants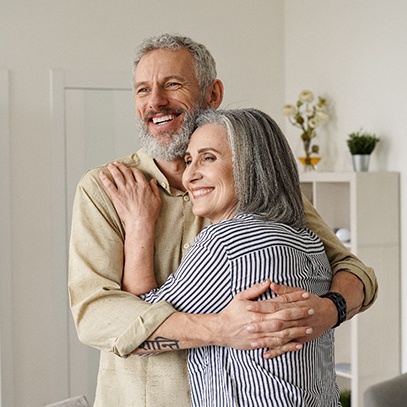 After combining their dentures with dental implants, patients often never look back. This is because they experience many benefits they never got from traditional dentures alone, including:
Dramatically improved biting force
Fuller face and reduce facial sagging
Boosted confidence when speaking and smiling
The ability to eat their favorite foods with ease
A truly beautiful smile designed to last for decades
Easier at-home oral care and maintenance