Dentist— Garland, TX
Get to Know Dr. Jordan McHone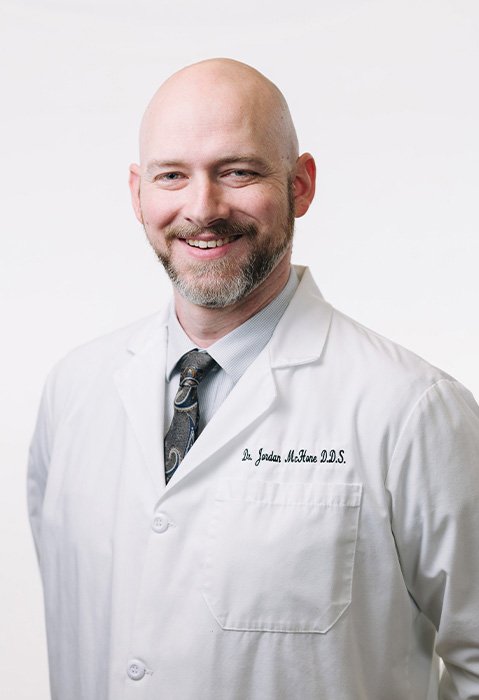 Dr. McHone is unique in the dental world because he has practiced in every possible context—he has previously served in the military, private practices, corporate offices, and even been an educator (he is still a Clinical Assistant Professor, in fact). He's excited that his career has brought him to North Garland Family Dental where he looks forward to building trust with his patients while working with our phenomenal team to accomplish their goals.
Why Did You Decide to Become a Dentist?
Dr. McHone decided to go into dentistry because he had a great dentist as a child who inspired him to make the in-office experience as pleasant and productive as possible for the people of his community.
Where Did You Study Dentistry?
After graduating from John Brown University, Dr. McHone went on to earn his dental degree from the University of Texas School of Dentistry at Houston. He then completed a one-year Advanced Education in General Dentistry residency at the Wright-Patterson Medical Center located on the U.S. Air Force base of the same name. During this time, he received comprehensive training that included periodontics, prosthodontics, orthodontics, pediatric dentistry, as well as courses on dental pathology and forensic dentistry.
He then participated in a USAF Preventive Dentistry Short Course at Lackland AFB. As part of his military service, he became a member of a team assigned to the Kadena Air Base in Okinawa, Japan, which saw him managing the dental health of the largest U.S. active-duty military and dependent population in the Pacific--over 15,000 patients!
Dr. McHone has since practiced all over North Texas in offices located in Richardson, Mesquite, Wylie, and Rowlett before finding his way to Garland. As part of his efforts to continually improve himself and stay on top of the latest dental developments, he is a member of the American Dental Association, Texas Dental Association, American Academy of General Dentistry, American Dental Education Association, and the Seattle Study Club.
Outside of the Dental Office, What Do You Like to Do?
At home, Dr. McHone and his wife, Samantha, have two young boys (Sean and Ryan) who are the center of their world. As such, he spends most of his free time playing video games and collecting/building large Lego sets with them.